Our mission is to support Japan's manufacturing industry by developing human resources, succeeding and advancing manufacturing technologies through manufacturing consulting service, outsourcing service and training service.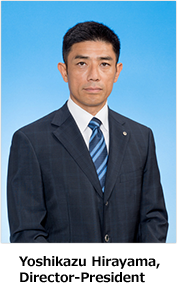 SUPPORT JAPAN'S MONOZUKURI, THROUGH WORKERS'OWN TECHNOLOGIES
We HIRAYAMA run a business under the slogan of "a manufacturing company without possessing facilities and land " and with a business concept "to support Japan's MONOZUKURI by leveraging technologies that belong to workers themselves."
We give the first priority to an investment of our management resource in building up a system that enables us to make a proposal for improving the efficiency of manufacturing site as a one-stop service. For this purpose, we are endeavoring to strengthen the education of production managers who play a core role at the site and also redevelop specialist skills of our senior staff who have long experiences in manufacturing before joining our company, all of which will further enhance the ability of 'MONOZUKURI' to perform contracted jobs in a factory.
We also provide a scheme for enriching employees' careers by applying a qualification support system based on EAP "Employee Assistance Program" such as career counseling and mental health care. This is prepared as a step for employees to be transferred from a fixed-term employee to a regular member of staff.
While managing our company in faithful adherence to corporate Compliance, We HIRAYAMA, as a directorate member of our industry association, have been continuing our activities with the aim of promoting the sound progress of our business circles as a whole. Through ceaseless efforts to fulfill our unique function for the manufacturing industry, we aspire to become such a company that proves worthy of producers' trust with the result that all the employees including skilled staff will take a pride in working with us for many years to come.